Cordelia's Compendium of Characters
Index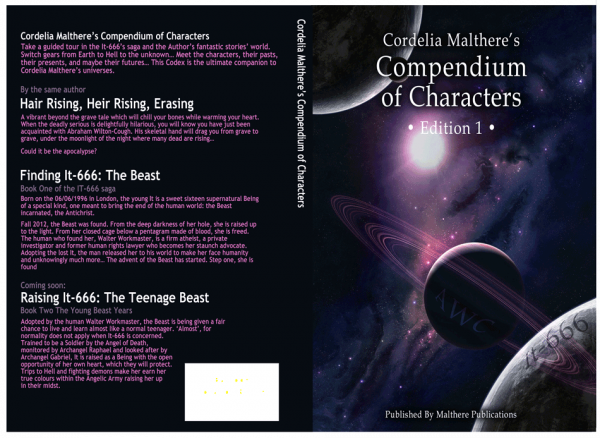 This comprehensive nomenclature will be ordered by the chronology of the published books and within it by the alphabetical order of the characters. Following the 'Who's Who' of characters, you will find a 'What's what' section, a list of created or combined words with their meanings. There are a fair few occasions where I applied this poetic license to fit closely to the heartbeat of the story or a particular individual within it. The last sections are the peep-holes to the future publications relating to those stories, spin-offs, prequels or next instalments to look forward to. It will offer the tangible glimpse of what is coming next or what happened before.

Published the 21st of October 2014, this short story was born like many of my stories within the midst of a nightmare. I remember still vividly hearing some chilling noises, some eerie music, sad laughter, stuck in the darkness of a long box. I pushed the door open to realise that I was in my coffin. A cowardly glance outside revealed a hilly cemetery, a moonlight night and other corpses rising from their graves, some dragging others to do so. I was freaked enough at the sight to lay back in the safe darkness, thinking that it must be a bad dream and that it will all pass. But someone saw me, someone recognised me, called my name out loud and opened my coffin lid wide open. In front of that half decomposed cadaver, my heart seemed to fail to beat any longer. I closed my eyes of fright and I woke up in my bed safe and well. I was not exposed in a coffin, exhibited to other dead people, I was in my bedroom with for only witness, my black cat Mystic blinking her yellow eyes at me peacefully from the other pillow.

Illegitimate daughter of Abraham Wilton Cough and Amelia Bates, Abigail was not conceived out of love. She is a pure mistake, simply made by her respective parents out of drunkenness. Despite her controversial conception, even unborn she is a blessing to all. To her guilt ridden father, the mere fact that she is the growingly visible result of his action within the belly of the Widow Bates caused his nagging unrest and prophetic nightmare on his death bed. Her unseen presence pushes the proud Abraham first to admit that he did commit mistakes during his lifetime. With her mother playing the spiritual guide to the departing soul of Abraham, they help him to go from admission to making amends, passing by the acknowledgement of his errors.

If that Angelic character brings about the redemption of her own father prior to his death, she is also a blessing in many ways to her human mother, the lonely good sweetheart that is Amelia Bates. For Abigail provides her finally with the family, the widow had craved for the many years of her childless marriage. She is a providential heavenly gift who repairs Harry Bates' lack of progeniture to his loving wife on his funeral night.

Her shrieking voice is the dreaded and familiar one which guides Abraham Wilton-Cough during the night of the rising dead. Born Elroy, the widow Bates has the privilege to be Abraham's impoverished neighbour. Always in the now and know, Amelia is his perfect guide.

Angela is the beautiful yet suffering wife of Abraham Wilton-Cough. Present by his death bed, she hold his hand until his last breath. She is the recipient of his last orders, the soldier that can execute his last wills, which starts with burning the ones he had written previously with a lawyer and friend, with a cold and calculating heart: The very will which would have seen her become totally destitute and dying on the church steps of Wilton Town's church a very bitter winter night, the 23rd of January 1866.

Private Harry Bates is the quintessence of absent characters. Talked about, missed, grieved, his lack of presence, nonetheless affects the other characters in many ways. Like a missing link the life of Harry Bates can explain and shed light about the lives of others and their behaviours. Let's take the example of the always well informed Amelia Bates to illustrate the point. She has developed that trait of her character because of the military career of her husband. Harry is the determining factor behind a self taught Amelia who reads the newspaper to know if he is still alive, which part of the world he is located, which battles he faced, their results and consequences on the world and people, and trying desperately to guess when would he possibly be able to come back.

Briefly mentioned, she is the character which presents Angela to Abraham in one of her tea parties, warning him to not fall in loves with the Italian shop keeper's daughter. Aunt Josephine is the would be keeper of old generations and old fashions yet to still be in fashion herself and for her parties not to be obsolete, she has to invite the new generation which brings life to the old town and the like of Angela. Angela is like a mirror of herself in her younger years, an up and coming socialite to be watched.

Josiah by his imaginary piano/organ/organic instrument, playing beautifully and powerfully, is a pure vision. The youngest son of Abraham Wilton-Cough symbolises all the children who had to endure the will of their parents as their own. If they do not do so, they end up beaten up badly.

Noah M Wilton is the revered character, founder of Wilton Town, ancestor of Abraham Wilton-Cough. We hear about him first, mentioned proudly by Abraham who boast to be the eleventh removed from him. Larger than life, Noah takes shape and form in a formidable statue in the delirious dying dream of Wilton-Cough. As Abraham catches his breath at the base of the colossal brass effigy of his ancestor, he regains stock of who he is, who he came from but also the courage to face his own future, hence the judgement for his mistakes.

The character of Father Odell looks after his parish like a shepherd after his flock. Ready listener of their ailments and tribulations, he offers to them the comfort of an educated comprehension, wraps their shoulders by his understanding and instead of letting them face their worst nightmare alone, he leads them to forgiving solutions to their dilemmas.

Father of Abraham Wilton-Cough, Terah is just mentioned by him with great pride. This character is not elaborated in this story. From the association of two powerful families, the Wiltons and the Coughs, Terah is a member of the third generation. His important wealth handed down to his son made him own half of Wilton Town. Still not enough, Abraham endeavoured to increase his fortune by creating the first bank of the town.

Doctor Vincent Valdi is another character barely mentioned in the story. At the bedside of the dying Abraham Wilton-Cough, he is monitoring his last hours, unable to save him. Like Angela Wilton-Cough and Amelia Bates, he is from the generation of people who came to make their lives in Wilton Town. Well regarded, Doctor Valdi is an indispensable member of the community. He is present at the birth of its people and at their death. Best friend of father Theo Odell, the atheist Valdi shares with him the passing and going of all in Wilton Town. He also beholds the secrets of everyone in town like the priest does. The two men serve as watcher and peacekeeper of Wilton Town population.

What can I say about Zach? The first time you encounter him you will not like him a tad. I wrote him with his sheer stupidity aligned with his false cleverness. Zachary Wilton-Cough is a character as daunting as a sponge which was left to absorb vitriol until it is so poisonous, your guts instinct are to just leave it there and ran away without dealing with it or squeeze it out of the bullshit it is full of.

Wilton Town is a whimsical place with a far-West feel to it. Created out of the sheer wilderness of a large, dark and strange forest by the broad axe of Noah M Wilton, it represents all the hope of a better future that people do carry with them. However it didn't quite synthesise itself on the ground, despite Noah and his followers's best will and efforts. The hard working and generous Noah provided them with the free land, built the houses, designed a small town out of the treasure of their surrounding seas of trees.

It-666's story can not be told in one sentence not even in one book. It has a fateful spin to it which will last for as long as it is meant to last. It is determined.

We meet 'It' at the start of the saga, aged 16, in an appalling state. Kept in a cage, starved, tortured, left in her own mess, the teenager has only one wish, the one of dying. Representing all we fear, the incarnated Beast, is a young distressed Being. She had far from the most enjoyable start in life.

I must say before I even start talking about him, I am fond of Walter who earned himself many nicknames from Wreck-Man to the shit-stirrer. If the character was alive and real, I would take him to the pub and go for a long 'talking shit over pints' session, reviewing whatever happened that week from news to politics passing by a glimpse on our love lives and see where they are at, eager to ear what he had to say about everything.

Gabriel plays a very important character in the saga. We meet him in the first book as incarnated Doctor Gabriel Purallee. Strangely enough that ambivalent Angel is the one that all turns to for some sort of stability. His clinic and his house serve as a refuge, the safe haven where one can hide to stay alive.

The ex-wife of Walter Workmaster is the human and younger sister of the incarnated Gabriel Purallee and the mother of the incarnated Michael. In Angelic terms, she is a very special person chosen to carry one or more Angels back to their incarnated form. Did she knew about it? She had no clue at all. She had no conception that her son, brother and uncle are Archangels until she stumbles upon an Angelic meeting led by Raphael at his AA club in the middle of the night. Like her husband, humans have no ideas that Angels are walking among them and looking after them and Earth. It is a secret which is revealed to her as her uncle facing the hard choice of either erasing the memory of her niece or letting that human know about the presence of Angels in the world, chose the latter risk. Brain washing Caroline is out of the question for him, purely and simply because the Archangel has a soft spot for the human he helped raising but he also has respect for her original individuality, which reminds him of his own self.

We meet Michael, age eight, called Micky by all. This important Archangel has only recently incarnated once more and his human childhood makes him be temporally at a vulnerable stage. However he was given parents of choice in Walter and Caroline. Both are nurturing and loving him to bits.

Wrath is a character which tells you how it is in his standards and will force you to them by any mean, without almost any regards for who you are. Raphael has a physical presence that can make you quiver and he knows it. He plays with it shamelessly like a cat on a mouse chase. He can make it as sweet or cruel for you depending on his plans, schemes and temper. Wrath is renown to have a very short temper, trying him is definitely a bad idea. He comes with strings attached. He is full of them. Worse, he is the leader of them: anyone he pulls can spell your doom or your blessing momentarily. Raphael as a puppet master could be all good if his mind would not switch in a nanosecond to an entire other direction. Raphael is frighteningly so impulsive yet it is also his main skill, quick thinking, acting fast, he kills anything in the bud before it can fester away.

If Wrath was daunting enough, his henchman is even more unsettling. What can I say to bring justice to Azryel's character? I absolutely adore writing him. Azryel Mortimer is a character which grew a life from my pages and into my own heart. If there was a fan T shirt, black with a big red heart in the middle saying: 'I love Az', I would wear it proudly with no shame at all. It is odd for an author to say that they are the first 'groupie' of their created characters but I can only admit that I am for this one.

From all of Raphael's Angels, Asha is one with a very kind heart and the patience of a true Angel. He will take the time to explain things to the lay human without being ordered to do so. He will offer his shoulders without being asked. Known as the 'Philosopher', he has a calm, poised and understanding attitude about him.

We meet the character of Liz Arczy briefly in the first book. She then develops slowly but surely throughout the saga to a certain potency and consequence. Receptionist at the clinic of Gabriel, the red head human picked the interest by her quirky personality.

What can I say about that character? That you will never be able to quite grasp The Tutor even with your best intentions and most clever brain cells fully switched on. Elusive yet fully on, it is a whimsical idea of God, a pure allegory.

Nun Tess was the tough catholic sister who abducted the Beast at her birth on the 6th of June 1996 with Father Williamson. She is the one that took charge of her care up until It-666 was five years old. On the fifth birthday of the Beast, she was killed ruthlessly before her by men paid to abduct the child.

Father Williamson is one instrumental character which changed fate by a simple trick up his sleeve: a curse. To be honest I do not let any readers know much about him at any stage in the saga. Although if we meet him again in book 3, he is still a short encounter, yet a vital one. However he is one of the main hero of the prequel trilogy to the Saga of the Beast.

What can I say about that character? That you will never be able to quite grasp The Tutor even with your best intentions and most clever brain cells fully switched on. Elusive yet fully on, it is a whimsical idea of God, a pure allegory. I must confess that it is one of my hardest characters to write about. He is the Sum of all Souls. You may find him beguiling. You may find him intimidating for he is. However whenever he steps in, he brings immediate relief with his presence. However he is the one the Angels will seek out to resolve their issues and dilemmas. Daunting, mysterious, knowing more than he will reveal at any one time, talking almost with riddles and puzzles to work out, he is the hard core of entities.

Wendy Workmaster is a character which is only mentioned here and there. Wendy is past, gone and dead yet remembered by many with a sore heart, especially her twin brother Walter and her fiancé Gabriel. How to describe Wendy? She was another little Walter, a pure Workmaster through and through. She could finish the sentence of her brother and he could finish hers. They would laugh and cry at the same time, at the very same things. Physically, she is a tomboy blond, the exact copy cat of her brother. Very pretty in understated ways, she grabbed the overwhelming attention of Archangel Gabriel.

Cecile is the Au-pair girl of the Workmasters. We only encounter her briefly in the first book of the Saga. The French girl had been living with Caroline Workmaster and her son Michael to help out. The single Caroline is a busy doctor with irregular shifts which rendered an Au-pair girl invaluable. Cecile is reliable and her nice character is well liked by the entire family. She gets on well with everyone. Her responsibilities range from babysitting to picking up Micky from school, passing by helping him with his homework.

Tango Charlie is a human character which only appear in the first book. CIA/security agent, code name Tango Charlie is one of the Service secret connections of Big Gab and his Uncle Raphael. However if Wrath uses the services of human secret agents with scarcity and sagacity, his nephew prefers using their services to soliciting the ones of the Angels of Raphael. On the part of Gabriel, you may call this pride, or an ongoing feud with Wrath which makes him reluctant to ever have to ask the elder Archangel for help.

Mister '3', 'Santa Morte', The Aryan, henchman Colt and Big Brother 4 are all humans at the service of Paul Peterson. They are all killers apart for Big Brother 4 who is the security watcher at 'P's'. They are all fearing the demonic politician. They will follow his orders to the letter to save literally their own skins and they will be ruthless about it.

Well, here we arrive at a character which I kept in reserve for the last to be mentioned: Eremiel, the father of the Beast, aka, Evil. Fallen Archangel, the extremely handsome Eremiel is bad to an unsettling purity. He is the nasty piece of cake that the Angels have constantly faced for almost an eternity as their Arch-enemy. He ruled Hell for a long while, after being 'fired' by the Tutor and sent there, and after depositing Hades from his Hell throne, shortly afterwards. Eremiel is the evil character in It-666 Saga: we meet him in all the books written in one form or another. He is that undermining constant Being which wants none to have an 'happy ever after' apart from himself.

You have just met the characters of the first book. You will meet more as the other books get published one after the other. I can tell you already that there is a crowd of characters in the universe of It-666. However you have just been introduced to the principal ones: It-666, Walter Workmaster, Azryel Mortimer, Raphael Wrath and Gabriel Purallee.

We have reached the end of this first edition of the Compendium. I hope you enjoyed meeting my characters. To resume, they are the ones of my first two published books so far. As the Compendium is far from being fixed and pre-determined, as more of my stories will be released, it will be expanded regularly.