Raising IT-666
The Teenage Beast
Book Two
Cordelia Malthere
Finding IT-666
The Beast
Book One
Cordelia Malthere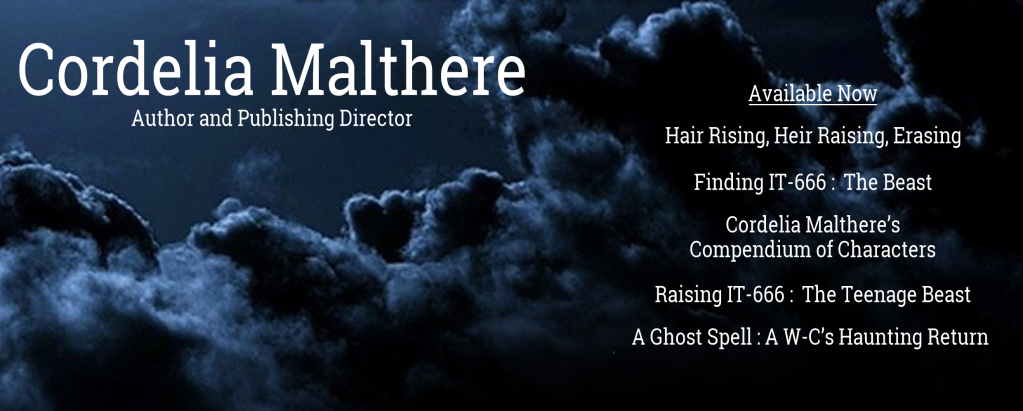 From the depth of his grave, Abraham Wilton-Cough rises again. He cannot rest in peace. It has nothing to do with his senseless death at the hands of an armed robber while the banker was protecting his customers. No, Abraham can not rest until he knows his loved ones are fine, all of them, but one is cursed, like many children in Wilton Town. Now a Ghost, if A W-C will have no rest, no one will, for he will haunt them until he brings everyone together to defeat the curse condemning the children of the town to become Ghouls. It is fair to say that Abraham Wilton-Cough is a Ghost on a mission.
Adopted by the human Walter Workmaster, the Beast is being given a fair chance to live and learn almost like a normal teenager. 'Almost', for normality does not apply when It-666 is concerned. Trained to be a Soldier by the Angel of Death, monitored by Archangel Raphael, and looked after by Archangel Gabriel, It is raised as a Being with the open opportunity of her own heart, which they will protect. Trips to Hell and fighting demons make her earn her true colours within the Angelic Army raising her up in their midst.
The intention behind the creation of the Compendium of Characters is to give a ready guide to anyone who ventures into the Maltherian Universes. It is a vast place where my books act as planets with their own particular orbits and trajectories, inhabited by colourful characters intricately interacting with each others. The Compendium maps the revealed territories of the published stories. It reveals with parsimony some unchartered ones as well, making one envisage the beyond and the further. This guide will be expanded each time more of my novels are released into the public domain to provide the ultimate companion to my printed work at any point in time
A vibrant beyond the grave tale which will chill your bones while warming your heart. When the deadly serious is delightfully hilarious, you will know you have just been acquainted with Abraham Wilton-Cough. His skeletal hand will drag you from grave to grave, under the moonlight of the night where many dead are rising… Could it be the apocalypse?

Born on the 06/06/1996 in London, the young It is a sweet sixteen supernatural Being of a special kind, one meant to bring the end of the human world: the Beast incarnated, the Antichrist. Fall 2012, the Beast was found. From the deep darkness of her hole, she is raised up to the light. From her closed cage below a pentagram made of blood, she is freed. The human who found her, Walter Workmaster, is a firm atheist, a private investigator and former human rights lawyer who becomes her staunch advocate. Adopting the lost It, the man released her to his world to make her face humanity and unknowingly much more... The advent of the Beast has started. Step one, she is found.

Welcome to my world.
From the deepest darkness of a grave to Paradise, walking through Hell and Earth, from adventure to adventure, I invite you. You do not need your most pompous attire in here, just wearing a human heart will do. Take a dive.
I plunged into writing truly when I lost my best friend. Before, I was quite a story teller that could keep anyone awake all night. After, I dived into a wonderful retreat of words, universes I created from scratch. Often a reflection upon reality, those helped me deal better day after day. Healing, soothing, a shout, a rant, a good laugh, my penned words just let my heart have a voice that sings about what it is to be human, to love and to live.
I do not bestow any answers, I just bestow a heart that speaks about humanity.